CRA-Carlo Ratti Associati, in partnership with global energy company Eni, has developed an experimental Circular Juice Bar that uses oranges to make bioplastic, turns it into filament, and 3D prints disposable cups to drink the freshly-squeezed juice. Called "Feel the Peel", the prototype is starting a tour of public places around Italy in the next few months as it strives to demonstrate a new approach to environmental circularity in daily life.
"Feel the Peel" is a 3.10-meter tall orange squeezer machine that is topped by a dome filled with 1,500 oranges. When someone orders a juice, oranges slide down into the squeezer. As each orange is cut in half, its peel falls into the lower part, where they accumulate. Through a process of drying, milling, and mixing with Polylactic Acid (PLA), peels become a bioplastic. The bioplastic is then heated and melted into a filament that is used by a 3D printer incorporated into the machine.
The resulting cups can be used to drink the freshly-squeezed juice and then recycled. "The principle of circularity is a must for today's objects," says Carlo Ratti, founding partner at CRA and director of the Senseable City Lab at the Massachusetts Institute of Technology.
Visitors can experience the 3D printing process, which is integrated into the system: a concentric layering of the filament builds their cup right in front of them. The mixture is used after a meticulous weighing and balancing of the ratio between orange dust and PLA.
This project continues a series of collaborations between CRA and Eni that explore circularity and design with different materials. After a preview show at Rimini's 40th Meeting for friendship among peoples in late August, the Circular Juice Bar will be installed at the Singularity University Summit in Milan on October 8th and 9th, 2019, and at Ecomondo Rimini, the leading event in Europe for the new models of circular economy, in early November. Source by CRA-Carlo Ratti Associati.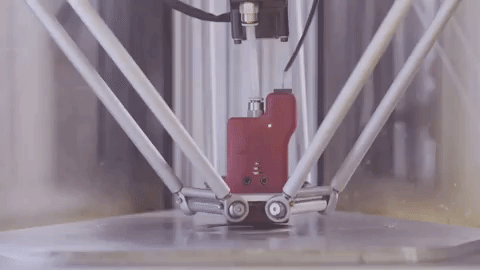 .
.
Location: Rimini, Italy
Architect: CRA-Carlo Ratti Associati
CRA Team: Saverio Panata, Alessandro Tassinari, Oliver Kazimir, Luca Bussolino
CRA Graphic team: Pasquale Milieri, Gary di Silvio, Gianluca Zimbardi
Technical Sponsor: 3D Printing WASP
Client: Eni
Year: 2019
Video: ActingOut
Photographs: Nicola Giorgetti, Courtesy of CRA-Carlo Ratti Associati